News and updates
We have selected for you some items with a 20% discount on selected types of cleaned clothes and home textiles selected below.
We are here, we are open and we are waiting for you in all our establishments!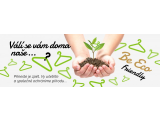 Do you have our white hangers from previous orders at home?
Just bring them back with another order and we will deduct them from the total amount. The condition is that the hanger does not bear traces of damage.
You save and together we avoid wasting raw materials. Let's be ecological ...
HM Globus is closed today - our branch is also closed.
From tomorrow, everything is open again.