STICKY DRUMS 16.3.2012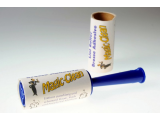 An aid for the household for swift care before leaving for work or entertainment. The icing on the cake of your flawless image. Using the sticky drum of a cleaning roller, you can remove all the pet hairs from your suits. By tearing off the used part of the roller than is no longer sticky, you gain a much larger volume for cleaning.
You can buy sticky drums at our branches or order them during a delivery.
Back to actuality