Catch Me If You Can... 6.2.2023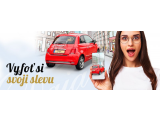 Catch Me If You Can...
"TAKE A PHOTO OF YOUR DISCOUNT" on the street.
Just take a picture of our car (standing or moving), upload the photo on
FB
and share it. The more original the photo, the bigger the reward. We are competing for gift vouchers worth CZK 550, CZK 1100 and CZK 2200. The competition is valid from 6 February 2023 to 30 June 2023 or until vouchers are exhausted.
Back to actuality