Every second piece with a 30% discount 29.6.2022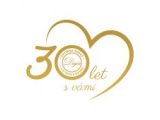 This year we are celebrating 30 years on the market and you can celebrate with us a stunning 30% discount.
Every second piece (of your choice) with a 30% discount.
Advantageous cleaning takes place in the period from 1.7.2022 to 30.9.2022 at all branches.
The discount cannot be combined with other discounts and does not apply to leather goods, carpets, clothing repairs and transport.
Don't miss your discount and prepare clothes, bedding or home textiles for the winter.
Back to actuality