Children's Day - Soft toy 29.5.2018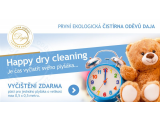 it's a household member and your child's best friend, who can not miss on any trip, has an honest place at Sunday lunches and the best view of the TV. It is your child's faithful companion and will not leave him alone for a single night. Relieve his care with a thorough ecological cleanup that extends his lifetime. And beware, on Day of the Day with a 50% discount!
The action takes place from 1.6. to 3.6. 2018 incl.
Back to actuality