OC Aupark - home furnishings with 15% discount 13.11.2017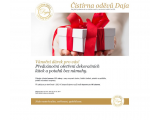 Christmas gift for you!
Pre-Christmas cleaning of home textiles - treatment of decorative fabrics and coatings effortlessly. Get a 15% discount on cleaning curtains, curtains, covers, and more. In addition, in the order of more than 1200, - CZK free of charge transport to Hradec Králové.
Save your time for your loved ones and leave your worries ...
The event is valid at the OC Aupark branch until 21.12.2017
Back to actuality