Haute couture Jitka Klett 13.3.2014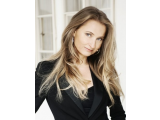 Haute couture French pronunciation, for "high dressmaking" or refers to the creation of exclusive custom-fitted clothing. Haute couture is fashion that is constructed by hand (without the use of sewing machines and sergers/overlockers) from start to finish, made from high quality, expensive, often unusual fabric and sewn with extreme attention to detail and finished by the most experienced and capable seamstresses, often using time-consuming, hand-executed techniques. Considering the amount of time, money, and skill that is allotted to each completed piece, haute couture garments are also described as having no price tag - in other words, budget is not relevant. Each couture piece is not made to sell. Rather, they were designed and constructed for the runway, much like an art exhibition.
Looking with us how an exclusive model in HAUTE COUTURE style from Jitka Klett's studio is created.
Back to actuality